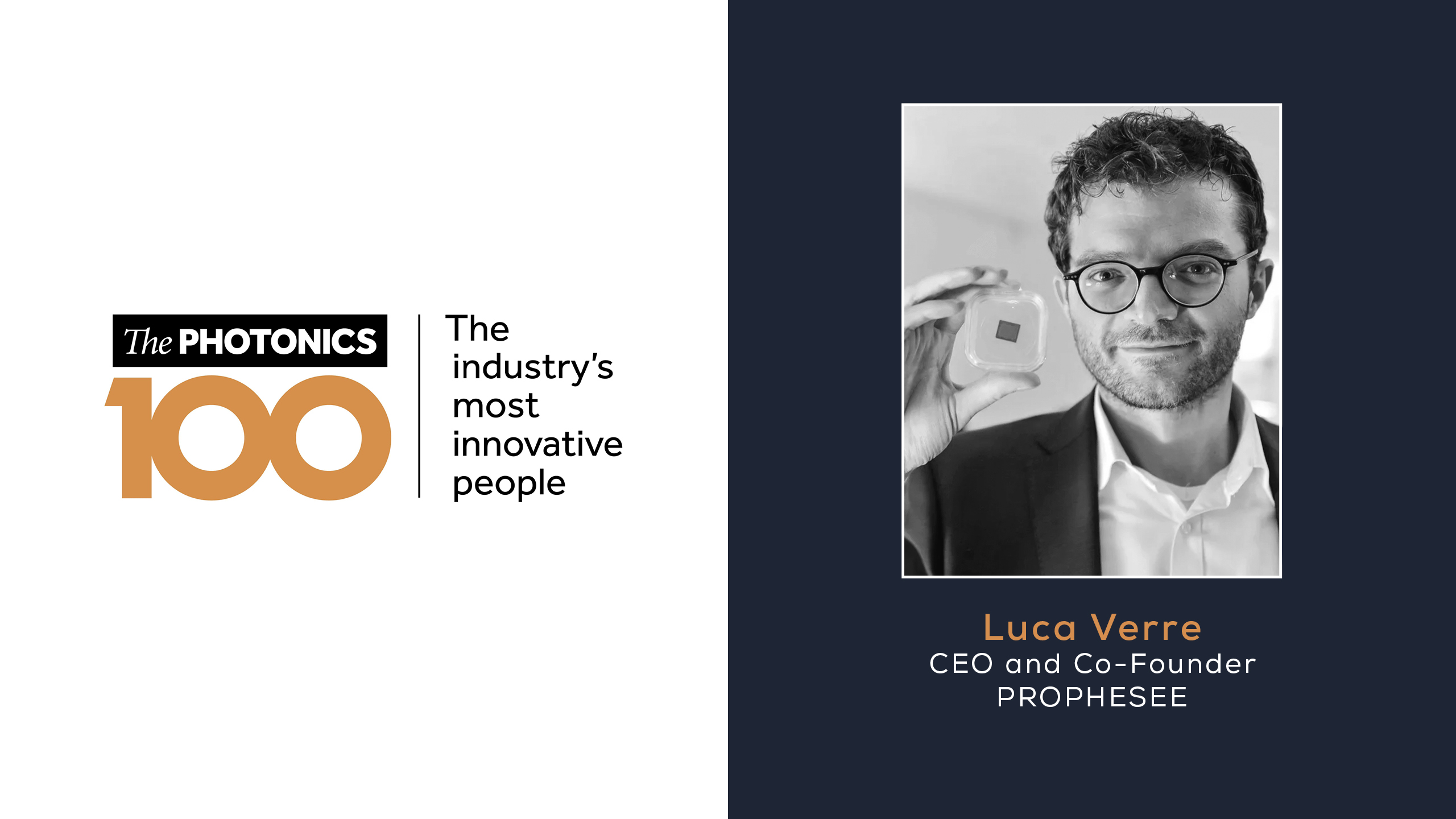 Luca Verre named in the Photonics100 list
Nov 21, 2022 – We are pleased to share that Luca Verre, CEO and co-founder of Prophesee, was named to the Photonics100 list from Electro Optics. 
"Our aim is to recognise those individuals at the forefront of R&D; those pushing the boundaries in photonics and, of course, what it can do for the wider world" – Mark Elliott, Europa Science.
The first annual Photonics100 recognizes the innovators, the boundary-pushers, the disruptors, the out-of-the-box thinkers, and the R&D 'rock stars' who have had the biggest impact on their fields in the past 12 months.
In his profile for Electro Optics, Luca discusses starting Prophesee in 2014 and the company's journey to the EU's most well-funded fabless semiconductor start-up. He reflects on the experience of founding a start-up and how these experiences have forced him to learn quickly and get exposure to many new technologies.
His advice for those embarking on a career in computer vision is to "go unconventional" and to "play at the edge of innovation and, if you are lucky enough, define new edges".  
Prophesee is the inventor of the world's most advanced neuromorphic vision systems.
The company developed a breakthrough Event-Based Vision approach to computer vision. This new vision category allows for significant reductions of power, latency and data processing requirements to reveal what was invisible to traditional frame-based sensors until now. Prophesee's patented Metavision® sensors and algorithms mimic how the human eye and brain work to dramatically improve efficiency in areas such as industrial automation, mobile, IoT, and AR/VR.
Prophesee is based in Paris, with local offices in Grenoble, Shanghai, Tokyo and Silicon Valley. The company is driven by a team of more than 100 visionary engineers, holds more than 50 international patents and is backed by leading international equity and corporate investors including 360 Capital Partners, European Investment Bank, iBionext, Intel Capital, Prosperity7 Ventures, Robert Bosch Venture Capital, Sinovation, Supernova Invest, Will Semiconductor, Xiaomi.
Learn more: www.prophesee.ai