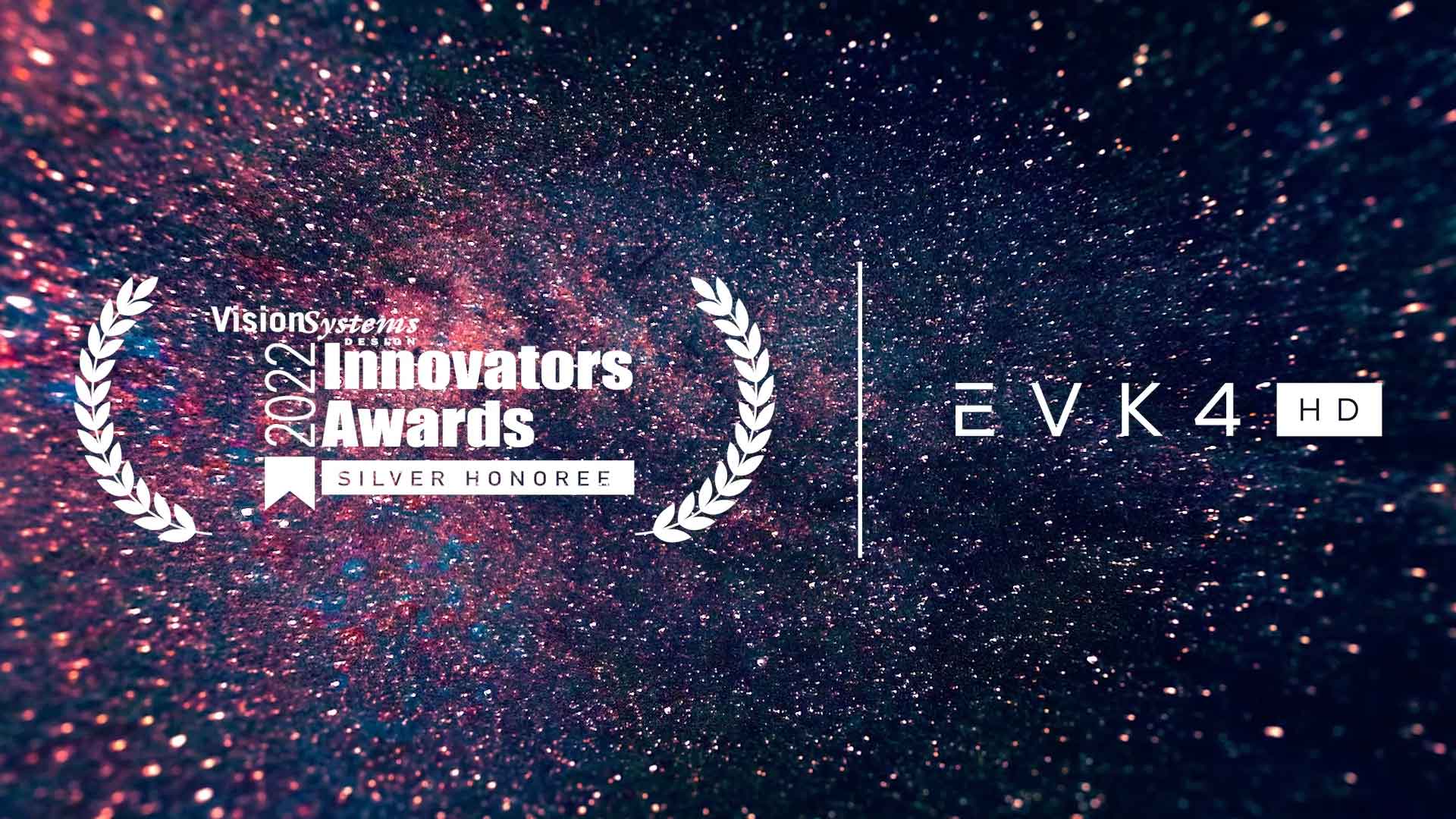 Evaluation Kit 4 HD wins Vision Systems Design 2022 Innovators Award
Prophesee is pleased to announce EVK4 HD was recognized among the best in machine vision by the judges of the Vision Systems Design 2022 Innovators Awards program. The judging panel consisted of esteemed experts from system integrator and end-user companies.
For the eighth straight year, Vision Systems Design held its Innovators Awards program, which celebrates the disparate and innovative technologies, products, and systems found in machine vision and imaging.
Submissions were judged on originality; innovation; their impact on designers, systems integrators or users; and whether they fulfilled a new market need, leveraged a novel technology, and/or increased productivity.
EVK4 HD is an ultralight, compact HD evaluation kit for developers of computer vision systems who want to start evaluation of the new Sony IMX636ES HD stacked Event-Based Vision sensor, realized in collaboration between Sony and Prophesee. The full-featured EVK provides computer vision engineers with an extensively tested solution for efficient technology onboarding and rapid application prototyping and development. The kit is natively compatible with free award-winning software from Prophesee. It also includes premium-level technical support and knowledge center access to application notes, advanced documentation, community forums and more.
"It is always a tremendous honor to participate in judging the VSD Innovators Awards," says David Dechow, a member of the judges panel. "The candidate technologies always generate a lot of excitement, and this year is no exception. The innovations cover many diverse product categories, and truly demonstrate the continued strong advancement of machine vision in automation globally.  Each of the technologies being honored truly represent the innovative spirit that continues to make machine vision an expanding market."
About Prophesee
Prophesee is the inventor of the world's most advanced neuromorphic vision systems.
The company developed a breakthrough Event-Based Vision approach to computer vision. This new vision category allows for significant reductions of power, latency and data processing requirements to reveal what was invisible to traditional frame-based sensors until now. Prophesee's patented Metavision® sensors and algorithms mimic how the human eye and brain work to dramatically improve efficiency in areas such as autonomous vehicles, industrial automation, IoT, security and surveillance, and AR/VR.
Prophesee is based in Paris, with local offices in Grenoble, Shanghai, Tokyo and Silicon Valley. The company is driven by a team of more than 100 visionary engineers, holds more than 50 international patents and is backed by leading international equity and corporate investors including 360 Capital Partners, European Investment Bank, iBionext, Intel Capital, Prosperity7 Ventures, Robert Bosch Venture Capital, Sinovation, Supernova Invest, Will Semiconductor, Xiaomi.
Learn more: www.prophesee.ai