High-speed counting with Event-based Vision
Event Camera Vision Cam EB by Imago Technologies supports high-speed counting for transparent, low-contrast gel capsules 
Gel capsules falling from a vibratory feeder.  They are counted at high-speed by a line scan camera.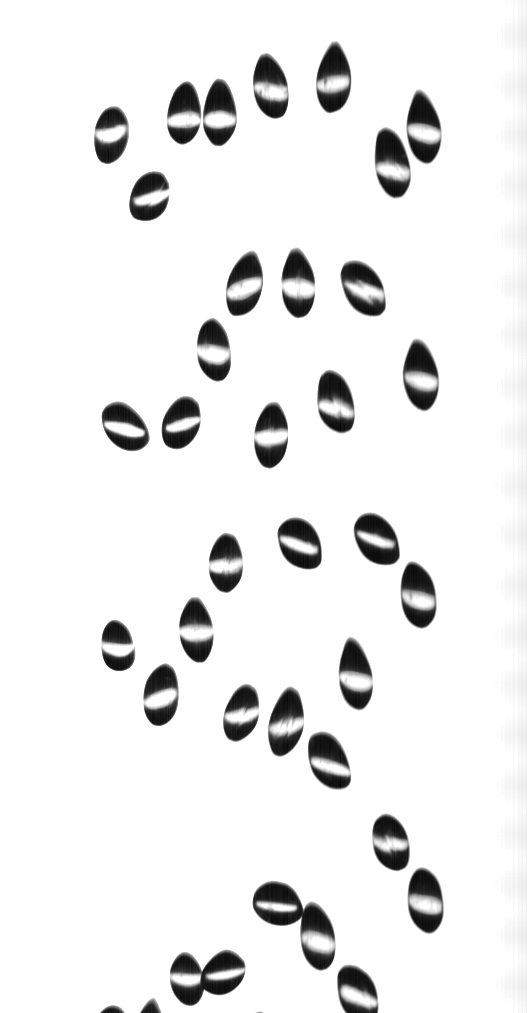 Processing with line scan technology:
Gel capsules cannot be recognized as an object by the software in the transmitted light process and therefore cannot be counted.
One capsule can appear as two objects.
Transparent, yellow capsules are to be counted at high-speed falling from a vibrating chute. Previous image processing solutions with a line scan camera using the transmitted light method reached their limits.
The gel capsules could not be counted at high speeds due to the transparency of the capsules and the lack of contrast caused by the yellow color.
The line scan camera with integrated real-time computer was replaced by the revolutionary event camera. Event-based image sensors record changes in a scene instead of capturing test objects line by line.
This means that Event-based algorithms can track objects even at very high speeds. The PSM module included in Metavision® Intelligence Software Suite was used as a starting point and fine-tuned to reach this solution.
Processing with event-based technology: Gel capsules can easily be recognized and counted.
IMAGO's Event-based camera counts moving objects at a throughput of 1,000 objects per second. The technology can be used to count a wide range of products, giving many industries a new competitive edge.
The processing of the data takes place in the smart camera itself. There is no longer a need for expensive high-performance computers for ultrafast counting.
Would you like to learn more about the Event-based camera, or do you have a specific application? The experienced IMAGO team together with the sensor specialists from Prophesee will be happy to advise you. 
IMAGO Technologies is a leading manufacturer of intelligent cameras, vision sensors and special computers for automated image processing. IMAGO designs, develops, manufactures, and distributes image processing systems in Friedberg, Germany, for customers worldwide in industrial inspection, pharmaceutical, engineering industry, and soon also for your application? For almost 3 decades, IMAGO has been offering trendsetting solutions with great innovative power serving the individual needs of customers.
The product portfolio includes intelligent line, area, and Event-based cameras, deep learning image processing computers as well as embedded multicore ARM, i-Core, and GPGPU computers, each with real-time IO, Linux, or Windows operating systems. IMAGO also supports its customers in the areas of engineer-ing and software development. For more information visit www.imago-technologies.com.