WORLD FIRST NEUROMORPHIC INSPIRED MOBILE TELESCOPE OBSERVATORY FOR HIGH PERFORMANCE SPACE SITUATIONAL AWARENESS 
The growing reliance on satellites has led to an increased risk in collisions between space objects. Accurate detection and tracking of satellites has become crucial.
Astrosite

, a world first neuromorphic-inspired mobile telescope observatory developed by the International Centre for Neuromorphic Systems (ICNS) at

Western Sydney University

is using Event-Based sensing as a more efficient and low-power alternative for Space Situational Awareness.
Day & night 
high performance operations
High Speed
µs temporal resolution
Continuous
Capture
during device movement
Astrosite – Introduction to Space Situational Awareness and Event based Sensors
WHAT IS SPACE JUNK AND WHY DOES IT MATTER ?
Gregory Cohen and his team at Western Sydney University have been working with the Australian Department of Defense to detect and track both working satellites and space junk, which in some ways can be like looking for the proverbial needle in a haystack.
According to their website there are currently about 4,850 satellites in space, but only about 40% of them are active. Dead satellites and debris in orbit leave potential for disruptions, and this has increased dramatically over the last 50 years, making it even more important to track and monitor objects in space. This is typically done through high resolution cameras that collect mostly images of empty space resulting in huge amounts of unnecessary data. These cameras are also not ideal for capturing images in the daylight.
"With tens of thousands of man-made objects currently orbiting in space, the risk of collision between debris, satellites and spacecraft has become a serious concern for organisations with a commercial interest in space, as well as national and international defense agencies" says Associate Professor Gregory Cohen.
Full Lunar Eclipse captured with Prophesee Metavision® sensor
Low Earth Orbit in High Wind Situations captured with Prophesee Metavision® sensor
ASTROSITE –

EVENT-BASED VISION IN A TELESCOPE
One of the top benefits of Event-Based Vision is the ability to only capture the most essential information and ignore all the redundant noise. What better use of this than the exploring and monitoring the vastness of space.
The Astrosite is a mobile observatory that uses Event-Based Vision in a new telescope system. This allows the system to only collect information when something changes in its field of view – i.e. when a satellite or other object is detected.
This results in far less data being processed than taking a series of snapshots. The high dynamic range that Prophesee's Metavision Event-Based Vision sensor delivers allows for observation of space even during the daytime.
The Astrosites – ready to be deployed!
Our world is becoming increasingly reliant on satellites, but we are doing very little to protect them or manage the end-of-life process. As a result, there is a critical need for accurate detection and tracking of satellites. These researchers are harnessing Event-Based Vision solutions to make this important job extremely efficient.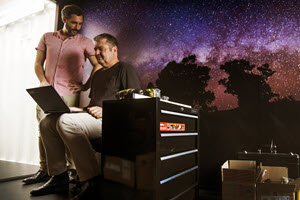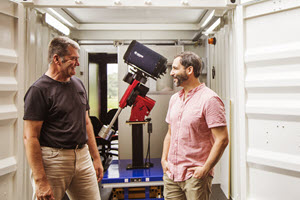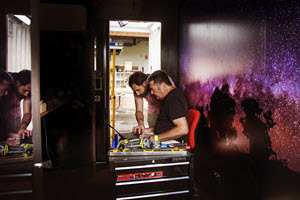 ABOUT INTERNATIONAL CENTRE FOR NEUROMORPHIC SYSTEMS
Western Sydney University has established the International Centre for Neuromorphic Systems (ICNS) – the only dedicated neuromorphic laboratory in Australia ­– as a home and global hub for leading researchers and students in this increasingly important field. The work of ICNS encompasses all three essential components of data-based decision-making systems, as their vision is to perform world-leading research to develop neuromorphic sensors, algorithms, and processors, and apply them to solve problems in modern society.
ABOUT PROPHESEE INVENTORS COMMUNITY
Since 2014, a network of researchers, start-ups and companies have shown incredible imagination and innovation using Prophesee's neuromorphic vision technologies.
This has created an Event-Based Vision ecosystem of inventors sharing their work and ideas. Their creativity with Prophesee's technologies inspires us.
We are gathering them here to inspire future inventors in turn, in the hope that, like the projects here, they create something new together and reveal the invisible.