Prophesee Showcases the Solutions and Partners Driving Event Based Vision at VISION 2022
The 2021 VISION Award winner is back with a powerful suite of hardware and software sensing solutions and new announcements with its fast-growing partner's ecosystem including Century Arks, CIS, Datalogic, Framos, Lucid and MVTec.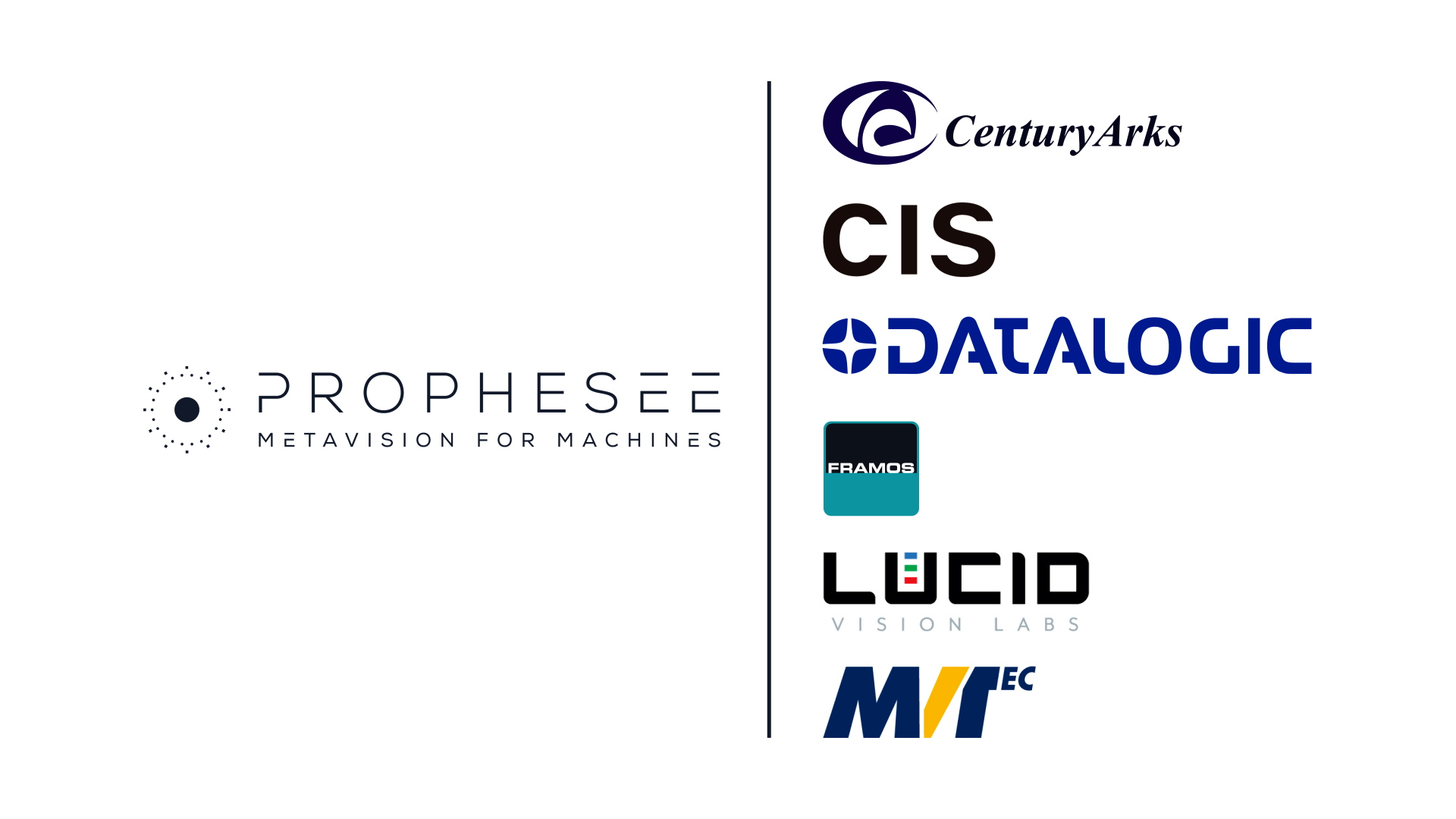 PARIS – October 3, 2022 – The full extent of the power and accessibility of Prophesee's advanced neuromorphic vision systems will be on display at the 2022 VISION show, with an array of technology showcases, partner demonstrations and live interactions that showcase the company's breakthrough event-based vision approach to machine vision.
Prophesee will have in-depth product demonstrations at its Booth 8B29 at the premier industry event happening October 4-6 in Stuttgart, Germany. Prophesee will also deliver an overview of its event-based platform on Wednesday, 6 October at 12:20 (Hall 8 Booth C70), entitled "The World Between Frames; Event Camera Come of Age."
Secure your private meeting today for in-depth insights from our experts: http://prophesee.ai/meet
Prophesee's Metavision® platform has gained traction with leading developers of machine vision systems in industrial automation, robotics, automotive and IoT. Its event-based vision approach significantly reduces the amount of data needed to capture information. Among the benefits of the sensor and AI technology are ultra-low latency, robustness to challenging lighting conditions, energy efficiency, and low data rate.
The company's breakthrough sensors, accompanying development tools, open-source algorithms and models are at the foundation of several announcements and demonstrations at the show, including:
CENTURY ARKS: Century Arks announces it will release mid-October the SilkyEvCam HD, first commercial Event-based Vision camera featuring the IMX636MP sensor realized in collaboration between Sony and Prophesee.
CIS: Prophesee announces collaboration with CIS, a leading machine vision provider, to build the first Event-Based 3D sensing evaluation platform, leveraging advanced VCSEL technology: https://www.prophesee.ai/2022/10/03/cis-prophesee-structured-light-evaluation-kit/
Datalogic: A global technology leader in the automatic data capture and factory automation markets begins landmark partnership with Prophesee to bring the performance and efficiency of neuromorphic vision to its industrial products: https://www.prophesee.ai/2022/10/03/datalogic-prophesee-event-camera-partnership/
Framos: A leading global supplier of imaging products, custom vision solutions and OEM services is releasing their brand new Event-Based Vision development kit based on NVIDIA Jetson Xavier, featuring IMX636 sensor realized in collaboration between Sony and Prophesee.
Lucid Vision Labs: Following early prototype announcement at VISION 2021, Machine Vision leader Lucid announces commercial availability of its new Triton EVS, featuring the Prophesee Metavision sensor inside.
MVTec: Prophesee and MVTec Partner to Support Integration of Prophesee Event-Based Metavision® Cameras with MVTec HALCON Machine Vision Software. https://www.prophesee.ai/2022/10/03/mvtec-prophesee-halcon-integration-partnership/
"We are very pleased to see the fast-growing ecosystem around event-based vision and the variety of applications this powerful approach to machine vision can be used for. We have made great strides in the Machine Vision world even from last year when we were named best in show by VISION, and this year we shine the spotlight on not just our innovations but the broad range of use cases being enabled by our partners around the world," said Luca Verre, CEO and co-founder of Prophesee.
ABOUT PROPHESEE
Prophesee is the inventor of the world's most advanced neuromorphic vision systems.
The company developed a breakthrough Event-Based Vision approach to computer vision. This new vision category allows for significant reductions of power, latency and data processing requirements to reveal what was invisible to traditional frame-based sensors until now. Prophesee's patented Metavision® sensors and algorithms mimic how the human eye and brain work to dramatically improve efficiency in areas such as autonomous vehicles, industrial automation, IoT, security and surveillance, and AR/VR.
Prophesee is based in Paris, with local offices in Grenoble, Shanghai, Tokyo and Silicon Valley. The company is driven by a team of more than 100 visionary engineers, holds more than 50 international patents and is backed by leading international equity and corporate investors including 360 Capital Partners, European Investment Bank, iBionext, Intel Capital, Prosperity7 Ventures, Robert Bosch Venture Capital, Sinovation, Supernova Invest, Will Semiconductor, Xiaomi.
Learn more: www.prophesee.ai