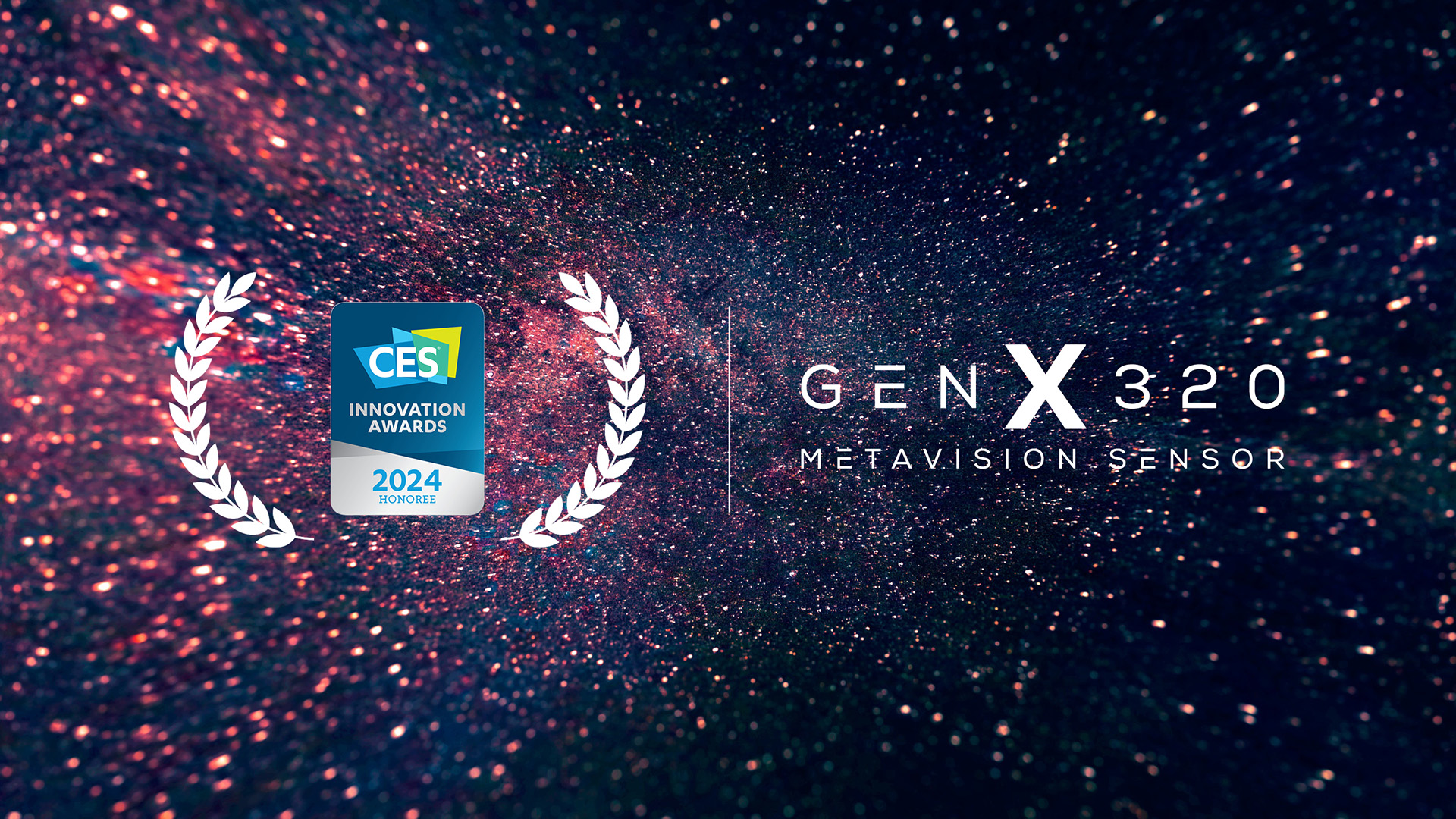 Prophesee Wins CES 2024 Innovation Awards for New GENX320 Event-Based Metavision® Sensor
PARIS, November 15, 2023 – Prophesee SA, inventor of the world's most advanced neuromorphic vision systems, today announced that it has been named a CES® 2024 Innovation Awards Honoree for its GenX320 Event-based Metavision sensor, the industry's smallest and most power-efficient event-based vision sensor. This year's CES Innovation Awards program received a record number of over 3000 submissions. The announcement was made ahead of CES 2024, the world's most powerful technology event, happening Jan. 9-12 in Las Vegas, NV.
The CES Innovation Awards program, owned and produced by the Consumer Technology Association (CTA)®, is an annual competition honoring outstanding design and engineering in 29 consumer technology product categories. An elite panel of industry expert judges, including members of the media, designers, engineers and more, reviewed submissions based on innovation, engineering and functionality, aesthetic and design.
The GenX320 is the industry's first event-based vision sensor developed specifically for integration into ultra-low-power Edge AI vision devices. The fifth generation Metavision sensor, available in a tiny 3x4mm die size, expands the reach of the company's pioneering technology platform into a vast range of fast-growing intelligent Edge market segments, including AR/VR headsets, security and monitoring/detection systems, touchless displays, eye tracking features, always-on smart IoT devices, bringing more intelligence, privacy and safety than ever to consumer Edge-AI devices.
"We are proud that our latest vision sensor, which is directly aimed at enabling many of the game-changing products unveiled at CES every year, can share the spotlight with such a world-class array of innovations. We feel that our approach to providing more efficient and biologically-inspired embedded vision capabilities in devices for many different types of applications is changing the paradigm in how we interact with the world around us," said Luca Verre, co-founder and CEO of Prophesee.
To see the new GenX320 sensor and the entire Prophesee Event-based Metavision® technology platform at CES 2024, book a meeting with us here. The GenX320 will also be featured at the Innovation Awards Showcase at the Venetian Expo, Hall D, Booth #56332, January 9-12, 2024.
Prophesee is the inventor of the world's most advanced neuromorphic vision systems.
The company developed a breakthrough Event-Based Vision approach to computer vision. This new vision category allows for significant reductions of power, latency and data processing requirements to reveal what was invisible to traditional frame-based sensors until now. Prophesee's patented Metavision® sensors and AI algorithms mimic how the human eye and brain work to dramatically improve efficiency in areas such as autonomous vehicles, industrial automation, IoT, mobile and AR/VR.
Prophesee is based in Paris, with local offices in Grenoble, Shanghai, Tokyo and Silicon Valley. The company is driven by a team of more than 100 visionary engineers, holds more than 50 international patents and is backed by leading international equity and corporate investors including 360 Capital Partners, European Investment Bank, iBionext, Intel Capital, Renault Group, Robert Bosch Venture Capital, Sinovation, Supernova Invest, Xiaomi.
Learn more: www.prophesee.ai
ABOUT CONSUMER TECHNOLOGY ASSOCIATION
As North America's largest technology trade association, CTA® is the tech sector. Our members are the world's leading innovators – from startups to global brands – helping support more than 18 million American jobs. CTA owns and produces CES® – the most powerful tech event in the world. Find us at CTA.tech. Follow us @CTAtech.
CES® is the most powerful tech event in the world – the proving ground for breakthrough technologies and global innovators. This is where the world's biggest brands do business and meet new partners, and the sharpest innovators hit the stage. Owned and produced by the Consumer Technology Association (CTA)®, CES features every aspect of the tech sector. CES 2024 will take place Jan. 9-12, 2024, in Las Vegas. Learn more at CES.tech and follow CES on social.